KID'S KORNER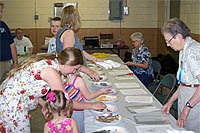 At the Kid's Korner, kids can begin or add to their rock collection for free! CGMA volunteers are available to answer questions. This is a great way for scouts to work on their badges, arrow, petals or try-it projects. Bring the troop with their questions!

Beading
Watch the beading experts show you the tools and techniques for creating beautiful jewelry. You can learn about all facets of beading, including fusing, advantages of different clasps, fold forming, tube setting and more!
Educational Exhibits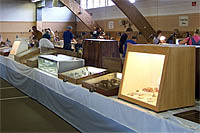 A number of local museums, often the Field Museum and the Lizzadro Museum, offer an educational exhibit. In addition, club members create education displays using specimens from their private collections.