Clubs of the Chicagoland Gems and Minerals Association

CHICAGO ROCKS AND MINERALS SOCIETY (CRMS)
Founded in 1946, CRMS is the outgrowth of a lapidary class in a Chicago Park District field house. Members include beginners, hobbyists, and professionals devoted to the collection and understanding of minerals, fossils, gems, rocks, and jewelry making. On the second Saturday of March, CRMS holds its Annual Silent Auction. The club publishes its award-winning newsletter, The Pick and Dop Stick, ten times a year. Visitors are welcome at meetings, which feature speakers on a wide variety of subjects, held the second Saturday of each month at 7:30 p.m. except July and August in St. Peter's United Church of Christ, 8013 Laramie, Skokie.
For more information, contact: Jeanine N. Mielecki, (773) 774-2054  or email [email protected] or visit www.chicagorocks.org
---
DES PLAINES VALLEY GEOLOGICAL SOCIETY (DPVGS)
The Des Plaines Valley Geological Society offers the amateur geologist the outdoor activity of rock collecting, plus the opportunity of studying the earth sciences other than geology. Education is the key – stone upon which the society was founded in 1958. An amateur earth scientist soon finds that this study may led into a number of somewhat different branches. We amateurs find the earth science interesting and instructive. Our hobby, in which whole families participate, is enjoyed by men and women, young and old.
For more information visit www.desplainesgeology.org
---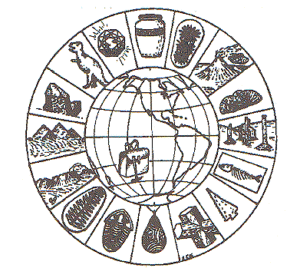 EARTH SCIENCE CLUB OF NORTHERN ILLINOIS (ESCONI)
The aim of the Earth Science Club of Northern Illinois (ESCONI) is to promote an interest in the earth sciences. ESCONI was organized in 1949 by a group of 13 people with in the earth sciences. The club has now grown to a membership of about 250. In addition to the regular monthly meetings, study group meetings are held in fields of paleontology, mineralogy including micromounts and archaeology. A Junior group (children under 16) is being started. We support two scholarships at College of Du Page. ESCONI publishes a monthly bulletin, and has regular monthly field trips. We have a fine library and have published three books.
For more information contact John Good, 630-303-2352 or Jim Fairchild (630) 497-6278 or visit www.esconi.org.
---
ELGIN ROCK CLUB (ERC)
The aim of ERC is to further the education and development of skills of its members in field of earth science, mineralogy, paleontology, and lapidary. ERC was organized in 1962. From time to time, there have been active study groups in paleontology, minerals, lapidary and metalcraft. The club enjoys the hobby participation of whole families. Meetings are held on the third Friday of the month at 783 W. Highland Avenue, Elgin, except in the summer.
For more information contact Mark Kuntz, 164 Jewett St., Elgin, IL 60123, or call (847) 742-9244
---
SOUTH SUBURBAN EARTH SCIENCE CLUB (SSESC)
is sponsored by the Park Forest Recreation and Parks Dept. and is dedicated to promoting interest and education in the earth sciences. The interests included are; minerals, archaeology, lapidary arts and processes, fossil collecting, identification and display. The club holds membership in the Midwestern Federation of Mineralogical and Geological Societies and the American Federation of Mineralogical Societies and the Chicagoland Association. The club meets on the first Thursday of each month (except the months of June and July) at 7:00 p.m. at the Park Forest Public Library, 7555 Lakewood Blvd. (corner of Orchard and Lakewood Blvd.), Park Forest, IL
---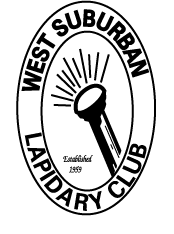 WEST SUBURBAN LAPIDARY CLUB (WSLC)
WSLC was formed in 1959 by several Elmhurst residents interested in the lapidary arts. Today the club numbers 80 members who work in all forms of the lapidary and jewelry arts. The club teaches cabochon cutting and silversmithing in a program jointly sponsored by Elmhurst Park District. Meets at the Abbey, Elmhurst, on the fourth Friday of the month (except December, June, July, August).
For more information, contact Rich Dillon at (630) 377-0197 or visit www.westsuburbanlapidaryclub.com